Chair Racing Simulator 0.1.3.7: Turbo Sneakers 👟 & Wheel Shield 🛡️
---
Hello there, gamer 👋
Another week has passed and I was busy adding new features that really add to the game and gameplay!
I've set myself a deadline until Thursday to release the next update and could actually hold it!💪
So, what's new in Chair Racing Simulator?
The most obvious change/addition are the power ups: Turbo Sneakers 👟 give you a 3s speed boost
Wheel Shield 🛡️ protect you from the negative effects of the carpets, diet patches and water puddles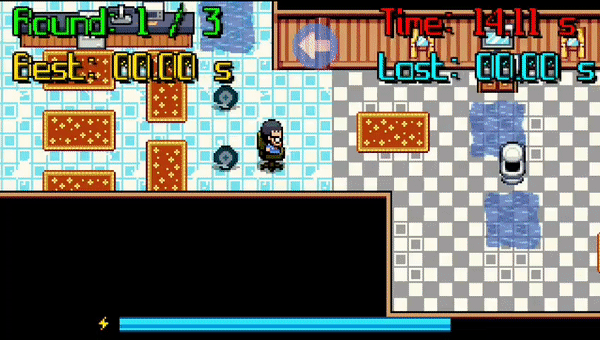 I've also removed the green energy drinks, made the blue energy drinks also collectible for player2 and redistributed them across all tracks!

Another feature that has been long planned has been implemented: permanently saved track records! The windows and Linux versions will save your records and progress in game now!
What's next to come?
I've already started to work on the next track: Anthony's Home which will also have some "unnecessary details" added, like a smoker where you can check for the meat or a fast food drive through (!) where you can order energy drinks... I'm already excited to get it done!
Besides, I'm working on more 'traps' as well as more power ups and there will be an 'unlocking system' where you'll require a certain time on the different tracks to unlock the next one.
Stay tuned and happy racing! 🪑🏁🔥
Here's the full changelog:
0.1.3.7:
- added 2 power ups to all tracks: Turbo Sneakers & Wheel Shield (see game description!)
- removed the green energy drinks for player 2 and made the blue energy drinks also collectible for player 2
- redistributed the energy drinks on all tracks
- the lonely couch and the pool regenerate energy much faster now
- The track and round records and the volume settings will be saved permanently now in the Windows and Linux versions
Files
Chair Racing Simulator 0.1.3.7 HTML.zip
Play in browser
Apr 14, 2022
Chair Racing Simulator 0.1.3.7 Win.zip
33 MB
Apr 14, 2022
Chair_Racing_Simulator_0.1.3.7_Linux.zip
34 MB
Apr 14, 2022
Get Chair Racing Simulator 0.1.666.0