Chair Racing Simulator 0.1.3.1 & 0.1.3.2: secret character, energy drinks respawning
---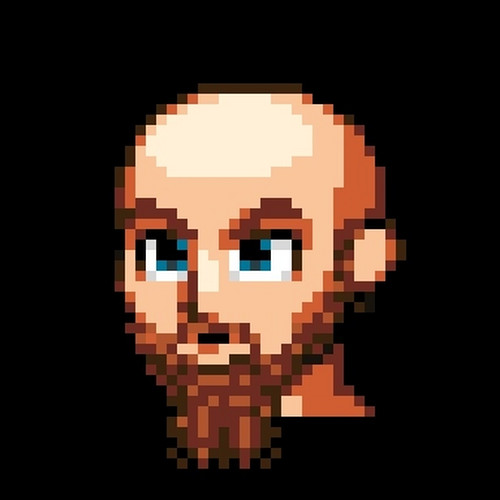 Hi everyone!
This week's updates have been all about bug fixing and adding small additions/features/changes to the game!
To begin with, I've added myself as a secret character to the game! You can select him by typing 'robert' for player1 or 'zloumoe' for player2 in the character selection screen.
This was made possible by a reusable "cheat detection" script made by reddit user Wolfe2x7 that I've added which captures any inputs made in the character selection screen. This also opens more possibilities for adding other codes that can be used to add more secret characters, tracks, special racing conditions... There are numerous possibilities to use it and there will be more secrets coming in future updates!
So keep an eye on the next devlogs or my Twitter posts with the hashtag #ChairRacingSecret 😉
Next change is the time display! The times are finally being properly formatted and are showing as MM:SS.ms instead of only seconds and milliseconds.
The game's size could be reduced by ~100MB! I achieved this only by compressing the in-game music. This results in much faster loading times, especially for the HTML build.
And finally, I've made the energy drinks respawn every 30 seconds and removed most of them from the tracks so there are only a few left which will re-appear at the same place after it has been collected.
For this, I'm not removing the energy drinks from the scene anymore after they've been collected but just make them invisible for the player. This way I don't need to handle the coordinates and instancing of new objects 😎
So, what's next? I'm currently trying to get racing times of different gamers to have an idea of the average times you can get on the tracks.
These times will be used to develop an unlocking system in the game where you need to get a certain time to unlock the next tracks.
Check out my pinned tweet on my Twitter profile if you want to help 😉🙌
Until then, I'll add permanent track and lap records so your progress will be saved between the game sessions.
Thx for reading so much and happy racing! 🪑🏁⏱️
Changelog:

0.1.3.2:
- reduced the amount of energy drinks on the tracks drastically and made them respawn every 30s instead of disappearing permanently when collected
- fixed a bug where the keyboard keys in the html version haven't been recognized after clicking outside of the game/browser and then going back again
0.1.3.1a:
- fixed a bug where the portrait of the secret character would still remain when another character had been chosen with a mouse click
- reduced app size dramatically (~100MB less!) which should result in better loading times!
0.1.3.1:
- added the dev as a secret character: you have to enter a code in the character selection screen to access him.
Search for #ChairRacingSecret on Twitter to get the codes 😉
- Changed the times' display to show the time in this more readable format: MM:SS.ms ⏱️
- fixed some graphical bugs in the 2-player-mode
Files
Chair Racing Simulator 0.1.3.2 HTML.zip
Play in browser
Apr 08, 2022
Chair Racing Simulator 0.1.3.2 Win.zip
33 MB
Apr 08, 2022
Chair_Racing_Simulator_0.1.3.2_Linux.zip
34 MB
Apr 08, 2022
Get Chair Racing Simulator 0.1.666.0